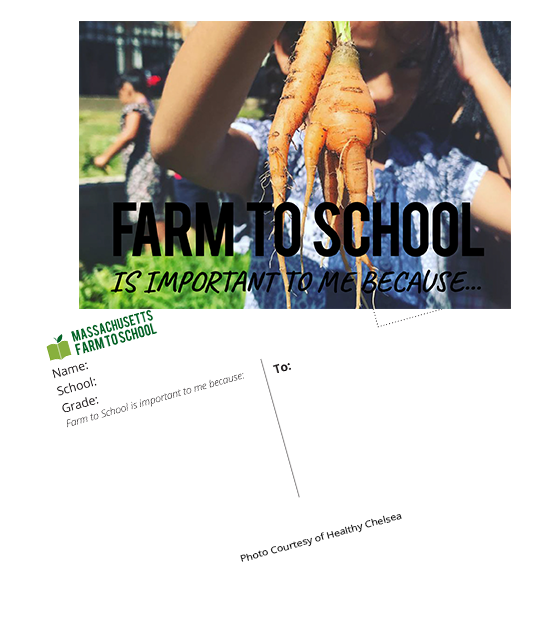 Come celebrate Massachusetts Farm to School Month by joining us at our First Farm to School Awareness Day at the Massachusetts State House on October 26, 2017 at 11:00AM!  Join fellow farm to school advocates and partners from around the Commonwealth to celebrate all things farm to school.  This day will be a great opportunity to meet with your legislators (make an appointment!) and share the exciting farm to school activities happening in your community, as well as visit with other farm to school organizations, and congratulate this year's Kale Blazer Award recipient.
Speaking Program
At 11:00AM we will hear from a few of the key farm to school supporters on how farm to school is currently impacting their area of work.
Speakers include:
Senator Anne Gobi, Chair, Joint Committee on Environment, Natural Resources, and Agriculture (and 2016 Kale Blazer award winner)
Commissioner John Lebeaux, MA Dept of Agricultural Resources
Rob Leshin, Director, Office of Food and Nutrition Services, MA Department of Elementary & Secondary Education
Erin Healy, Farm to School Director, USDA
2017 Kale Blazer Award Winner (to be announced)
Planning to Attend?
The event is open to everyone, but please let us know if you're planning to attend by registering here.
Farm to School Legislative Priorities
We've prepared a Farm to School Legislative Priorities handout for you to deliver to your legislator when you visit them during Farm to School Awareness Day. It highlights current legislation, future policy initiatives, and Farm to School's part in the Mass. Local Food Action Plan. Download the handout here.
Meeting with Your Legislator
Let you local Representative and Senator know about the great farm to school activity taking place in their district. Show them how these programs are promoting student and community healthy and local economic development. Here are some tips for meeting with your legislator.  Aren't sure who your legislator is? Look them up here!
Share Your Community's Story
We will also provide you with materials to capture your thoughts about farm to school, as well as the thoughts of your students for you to share with your legislators. You can download our student form. Or  you can order our "Farm to School is important to me because… postcards," please email dena@massfarmtoschool.org (20 max. per order please).  You can deliver these to your legislators either by mail, or in person during Farm to School Awareness Day!